FAQs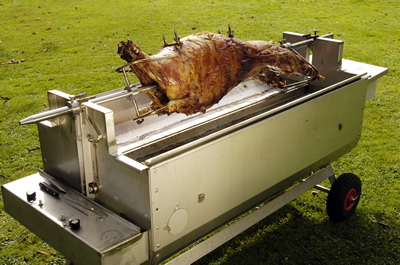 Frequently Asked Questions
Will the machine fit through my gateway?
Yes our machines have been designed with this in mind and they will go through a standard size.(28" is the narrowest). The machine Cannot go up or down a flight of steps as it is too heavy. We do not take any rubbish away with us.
How long will the meat take to cook?
Pig – 6hrs, lamb – 3hrs, beef – 3hrs, chickens and turkeys – 2hrs.
How many will it feed?
You give us approx number we are catering for and we supply the correct amount of meat to suit.
How much will it cost?
We tailor make a catering package to suit your budget
Are you registered?
Yes we are registered with local environmental officers, trading standards and have HACCP familiarization in place.
Do you have insurance?
We have public liability and other insurances in place in order to operate.
What do I need to provide?
All we need you to do is have a flat area 3m x3m square for us to set up on and to erect our cover which goes over the entire carvery – come rain or shine. Other than that we are self-contained